House building has this strange effect on the economy as a whole. Now for instance, if we were to initiate a programme of building 1 million houses in the UK this would take multitudes of building workers off the dole as well as boosting the employment of countless underemployed sparks, brickies, chippies and spreads.
Thus, we'd have scores of thousands more workers contributing to the treasury and our flat-lining economy. But it doesn't end there.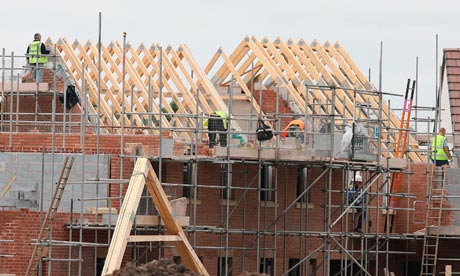 When people move into new homes they buy everything from paint for the ceilings to curtains; they have carpets laid; new kitchens installed; new cutlery crockery is purchased to fill those new kitchen cupboards and drawers; they buy white electrical goods; they go to the DIY store for garden decking…
You get the picture. One million new houses would not only kick-start construction, but would act as a fillip to our almost moribund manufacturing and retail sectors. In addition to this it would put the brakes on the buy to rent speculator, thus brining rents down, especially in the south, to more affordable levels.
If I can work this out then I'm certain that those in 'the know' are aware of this very simple piece of economic logic. Therefore it's safe to come to the conclusion that this government is not interested in:
2.
Reducing underemployment
3.
Creating meaningful jobs in construction
4.
Creating decent jobs in manufacturing
5.
Boosting employment in the retail sector
6.
Controlling the runaway levels of rent in the private rented sector
7.
Building more affordable social or council housing.
Instead it looks suspiciously as though this government like its predecessor is willing to sacrifice jobs in order to drag British workers back to the terms and conditions of the 1920s and 1930s in order that we can compete with the likes of China and India.